ELEVATOR WORLD: Austria-based View Elevator has released what it calls the "first smart autoresponsive two-senses emergency call system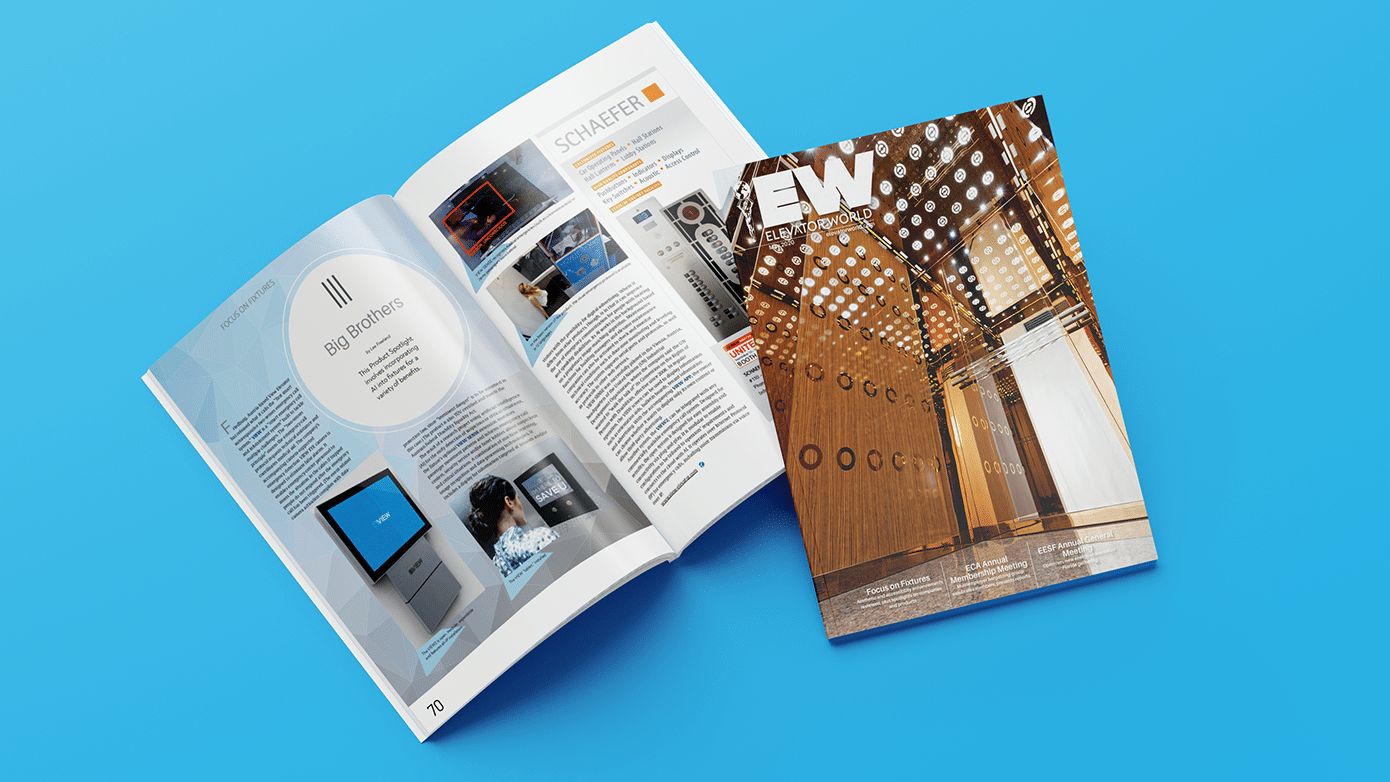 VIEW is a "smart emergency call and infotainment system" built to tackle multiple challenges. The "two-senses principle" means the emergency-call protocol requests technical assistance and coordinates medical aid. The company's accompanying camera-supported emergency detection VIEW EYE camera is designed to eliminate false alarms. It enables emergency-center personnel to assess the situation in the cabin if trapped people do not respond after the emergency call has been triggered. (The event-related camera activation complies with dataprotection law, since "imminent danger" is to be assumed in this case.) The product is also TÜV certified and meets the Austrian Federal Disability Equality Act.
The result of a research project using artificial intelligence (AI) for the early detection of suspicious or critical situations, the fixture's optional VIEW SENSE extension monitors passenger movement patterns and informs emergency call centers, security service and/or hotel lobbies about suspicious and critical situations.
A combination of machine learning, image recognition and data-processing technologies, it includes a display for information targeted at tenants and/or visitors with the possibility for digital advertising. Where it differs from other products, though, is in that it can improve the use of emergency communication for people with hearing and speaking disabilities. Its AI works in the background based on a proprietary image-matching algorithm. Maintenance functions for building managers and elevator maintenance companies can also be activated to check and monitor technical conditions such as door-zone monitoring and leveling accuracy. The system supports serial ports and protocols, as well as protocols to other web services.
VIEW SENSE was successfully piloted in the Vienna, Austria, headquarters of the United Nations (UN) Industrial Development Organization, where the company said the UN wanted to "walk the talk of" its Convention on the Rights of Persons with Disabilities, effective since 2008.
In regular operation, the VIEW screen can be used to display information such as orientation aids, bulletin boards, tenant information and advertising. With the accompanying VIEW APP, the owner can choose whether it wants to display only its own content or allow third-party advertising.
Another system, the VIEW2, can be integrated with any commercially available emergency call system. Designed for retrofits, the open system is designed for easy assembly and connectivity via plug-and-play. It is modular to enable configuration to be tailored to operators' requirements and connects to the cloud with AI. It operates over Internet Protocol (IP) for emergency calls, including voice transmission via voice over IP.