Detection of unaccompanied objects
VIEW Elevator closes a gap in airport security
"Do not leave your luggage or personal effects unattended at any time. All unattended items will be treated as suspicious." You cannot ignore this announcement at any airport.
At an airport, a piece of luggage is considered "unattended" when it is out of sight of the owner. Since unattended baggage can pose a threat to airport security, it will set off a security alarm that can put a significant strain on airport staff, security guards and the police – not to mention the bag owner.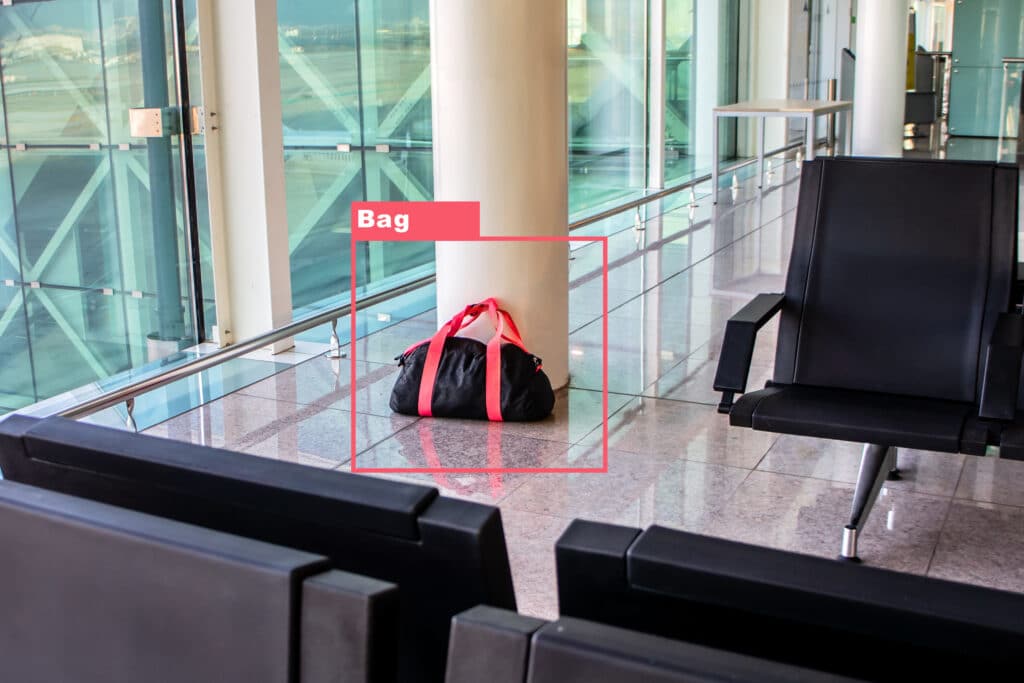 But how about an item that is purposely placed in a closed cabin of an airport elevator?
It can take a few minutes for it to be discovered and another few minutes for it to be reported. From a security point of view, the location of the unattended object in particular is of crucial importance for assessing its dangerousness. The degree of disruption to airport operations usually also depends on where the item is placed. If it is directly in the security screening area, in the check-in area or in an elevator group, this will significantly restrict the flow of people in the airport.
Airports are a unique, demanding and sensitive environment in which a smooth and safe flow of people and goods is of crucial importance for day-to-day operations. A minor disruption can have a big knock-on effect. The analysis of security incidents in a study "ASSESSMENT OF THE DANGER IN THE EVENT OF SECURITY GAPS IN AUSTRALIAN AIRPORTS *" showed that the vast majority of the responses related to unattended objects.
The detection of critical situations by VIEW SenseTM closes this safety gap in elevator cars, public toilets and bathrooms.
Use in hospitals, rehabilitation and care facilities, retirement homes
A hospital or care facility is not only obliged to treat the patient. Under tort law, he is also responsible for ensuring that the patient is protected from harm caused by the illness (or special constitution), by himself and by the establishment and structural design of the hospital.
The health or care facility is obliged to arrange the resident's stay in such a way that any avoidable risk is excluded. The duty of care not only extends to the prevention of consequences resulting from the actual care and home stay, but also includes the necessary precautions for the physical and health integrity resulting from the illness or constitution of the resident. This also includes the obligation to protect the patient from endangering himself if he is noticeably unable to behave accordingly.
If patients or groups of residents are known to have a tendency to fall, there is an obligation to take special precautionary measures to avert foreseeable dangers or their consequences. It is known from studies that at least a third of all people over the age of 60 suffer a fall at least once a year. About half of them multiple times and a third with injuries. In the 80-89 year olds the annual fall rate rises to 45%, in the 90-99 year olds to 56%. 30-50% of older people fall recurrently.
Three out of four fatal senior accidents are the result of a fall
On average, around 71,000 seniors are hospitalized in Austria every year because of a fall. 72% of fatal accidents in the age group over 60 are due to falls. Different causes for falls in old age come into question: cardiac arrhythmias, dizziness, hypotension, circulatory situation, chronic pain, blood pressure fluctuations, wrong medication, incorrect dosage or side effects of medication, diabetes, disorders of balance and vision, narrowing of the field of vision, muscle weakness of the legs and spine , sensorimotor deficits, polyneuropathies, carotid sinus syndrome, fear of falls, decreased stress tolerance and depression. 80% of the falls in old age are the result of balance and gait disorders, they occur without syncope and without an overwhelming shift in focus from outside in an everyday situation without special postural requirements.
In accordance with the significantly increased probability of occurrence and the expected severity of the consequences, the risk is assigned to the risk class of unacceptable risks. In the event that there is also a high probability that such an accident will not be discovered immediately (e.g. in the evening hours), the use of a VIEW SENSE system is strongly recommended.