Vandalism protection in the elevator: ongoing monitoring
Detection of vandalism
Vandalism in elevators causes damage running into the millions every year. If the mania for destruction is directed against elevator components, this can not only result in a hazard, but also render the system unusable. The repair of the damage is usually not covered in the maintenance contract and must be borne by the elevator operator himself.
The elevator laws oblige operators to monitor the operationally safe condition of the elevator system by means of operational controls. While such an operational control only takes place at certain points in time, the VIEW system ensures that it is complete and permanent Securityin the cabin, 24/7.
The VIEW emergency call system helps in three ways to promote protection against vandalism in the elevator
VIEW Sense (TM) automatically monitors and detects changes in the equipment of the elevator car. By comparing the depth data as well as the color and brightness values, the optional VIEW Sense (TM) detects unwanted and potentially safety-critical changes and alerts the emergency call center. Rapid countermeasures reduce the impact of the "broken windows effect", which leads to visible signs of vandalism promoting further destruction.
In addition, the use of the VIEW Eye (TM) security camera effectively scares off many "casual vandals". Even if this security camera is only activated in an emergency, its presence is a serious inhibition threshold. In practical use, the undesired behavior could be prevented in the long term even in "problem elevators".
Studies show that boredom while driving also repeatedly leads to destruction. Providing the users in an elevator car with interesting information or entertainment counteracts boredom and they don't quickly get the idea of damaging something. By showing content on the VIEW display, users are offered a corresponding distraction.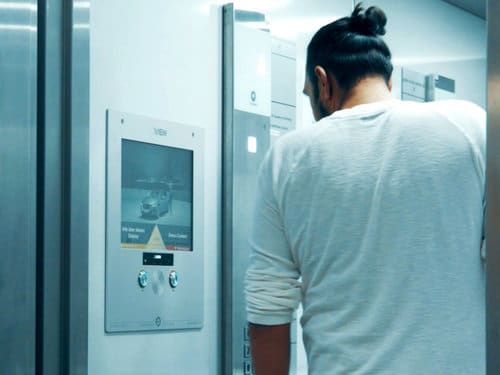 Effects of vandalism detected by VIEW Sense:
The surfaces in the cabin and on the doors are scratched or destroyed

Pollution in the cabin (waste disposal, dog droppings, urine …)

Graffiti in the cabin or the doors

Destruction and theft of lighting and light sources
Damage and removal of signs

Damage to operating and display elements due to the application of force

Damage to operating and display elements due to the effects of heat

Removal of handrails